Wedding Packages starting at $1295
Silver Package $1295
Sound System scaled to your venue needs
Up to 6 hours of Entertainment
Your Choice of one of the following "Lighstscaping" features…
Intelligent Dance Floor Lighting
"Venue Lightscaping" (Uplighting)
"Your Name In Lights" Custom Monogram
Gold Package $1595
Sound System scaled to your venue needs
Up to 6 hours of Entertainment
Your Choice of two of the following Lightscaping features…
Intelligent Dance Floor Lighting
"Venue Lightscaping" (Uplighting)
"Your Name In Lights" Custom Monogram
Platinum Package $1895
Sound System scaled to your venue needs
Up to 6 hours of Entertainment
Full "Lightscaping package including…
Intelligent Dance Floor Lighting
"Venue Lightscaping" (Uplighting)
"Your Name In Lights" Custom Monogram
Diamond Package $2295
Sound System scaled to your venue needs
Up to 6 hours of Entertainment
"Multimedia" Package
Intelligent Dance Floor Lighting
"Venue Lightscaping" (Uplighting)
"Your Name In Lights" Custom Monogram
Our All-Inclusive packages always include the following:
There are no hidden fees, no set up or tear down charges.
Pre-event consultation.
DJ service with your choice of music formats, and interactivity.
Professional Emcee
Professionally dressed entertainer (tuxedo, suit, ect.)
Event Planning and coordination of event details.
Coordination with your other hired professionals.
Referral Services.
I know a lot of talented professionals that I am proud to be associated with in the wedding reception industry, such as videographer companies, photographers, caterers, flower arrangers and event suppliers.
Visit our referrals page for some of our recommended vendors.
Experience. Flexibility to change on the fly as the situation changes is also important. I know that sudden changes can be disconcerting and even upsetting. I can minimize these issues and continue to make the evening seamless. A plan is good, but what happens if the plan has to change? Can the DJ you choose handle sudden changes?
Full Sound System including subwoofers, scaled to your needs
Intelligent Light Design, scaled to your needs
Travel expenses included in NE PA and Western NJ
À La Carte Pricing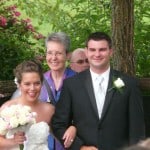 Ceremony System $195
Includes separate sound system for up to 1 hour including music for the pre-ceremony seating, ceremony, and wireless microphone for the officiant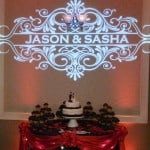 "Your Name In Lights" Custom Monogram $195
Includes a custom designed monogram used exclusively for your Wedding.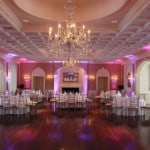 "Venue Lightscaping" (Uplighting) $495
Custom designed LED lighting used to accent your room in dramatic colors.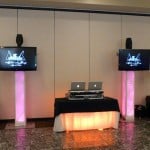 "Multimedia" Package $595
Package includes 2 42″ LED TV's
"Through The Years" Slide Show
Custom Slide Shows for Parent Dances
Live action Video Cam
Music Videos
Custom Video Introduction
CONTRACT: You should always be assured that your special event is covered by a contract. One of the saddest things we hear about is when a frantic client calls asking for an emergency fill in because a contract was not signed with another service. Never accept a verbal agreement as confirmation of your date.
You should never do business and place your event or your most important day at risk without the security of knowing that you have a contract in place with a professional DJ. You should avoid doing business with a DJ service that does not clearly explain his/her contract and/or offers to book you without a written detailed contract.
All contracts are signed with a 25% retainer fee based on the total amount of the services requested, and the balances are due at the conclusion of the event.
PRESENTATIONS: We will come out to visit you at a location of your choosing. My presentation consists of materials that we will use to plan and execute your event with. During this presentation, we will review a sample of our contract form, a planner, and a copy of our pricing information. It also consists of answering openly and honestly all of your questions. You can bring anyone you like to see this presentation and I will show you what value we can bring to your special event. These visits are free of charge. After all, it is important that we "click". It is important that we can trust each other and work together to make your event come off just the way you want it to.